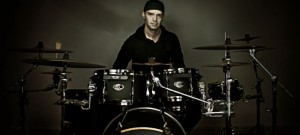 Aurel began playing drums in rock and metal bands at 15 and by the time he was 17 he had chosen drums for a career. After gigging and recording with musicians in Paris he moved to Nancy to enter the Music Academy Internationale (M.A.I) where he took lessons from their talented staff and gained experience playing in a band.
In July, 2000, Aurel earned his diploma at M.A.I. with honorable recognition from the faculty. By September he began his first tour in the east of France with his band, KOOMA, but also took part in several different projects performing about 80 gigs that year.
Kooma toured several more times between 2002 and 2004 but during one of these tours Aurel stepped in and rescued RON "Bumblefoot" THAL (Guns N' Roses) becoming his emergency replacement drummer by learning all of Bumblefoot's songs in just 2 days. Later that year he joined the neo-metal band ARTSONIC (Warner Music/ NTS).
By 2004 he decided to take assorted percussion lessons (conga, timbales, bongo) with MIGUEL GOMEZ, (Paco de Lucia, Africando All Stars) This was a musical experience Aurel found greatly enriching.
In 2005 he joined the Metal Band ZUUL FX and went on his first European tour. After two records, music videos on MTV, MCM, W9, and VH1, the band recorded their first live DVD released in December, 2008.
Since that time Aurel has been a highly sought after percussionist playing in many different bands in a wide range of styles. (Rock, Pop, R'nB, Acoustic, Instrumental). Then in 2007 Aurel was contacted by CHRISTOPHE GODIN and IVAN ROUGNY to join their band, MÖRGLBL, a prog-rock/jazz-metal band that has now become his main activity.
Mörglbl has been featured several times at the MUSIKMESSE in FRANKFURT and at the SHANGHAI MUSIC SHOW in 2012. With Mörglbl, Aurel has toured in the U.K, GERMANY, and four times in the U.S.A while sharing the stage with bands like FREAK KITCHEN, PANZERBALLETT, and LIQUID TENSION EXPERIMENT. In October, 2012, he did his first full tour of CHINA with Mörglbl promoting their album, BRÜTAL RÖMANCE.
Aurel also joined the world famous rock artist CHI COLTRANE on a tour starting in Vienna in June, 2009, in front of 100,000 people and continued to tour Europe with her periodically thereafter. He also played with PAUL GILBERT during his European guitar clinic tour and released his first solo album, PLAYGROUND, in September, 2012.
Aurel is proud to play VATER Drumsticks, TAMA drums, MEINL cymbals and REMO drumheads.